How You Can Help the Library
Parking Lot Payoff
We need your help to finish paying for the new parking lot so we can put parking lot mortgage funds into programs and services.
Help Us Add Parking 
Great News!  The Hazel Mackin Community Library recently received a generous donation of $25,000 toward paying for the land designated as additional parking.  What a great opportunity to come together and match those funds.
Double Our Funds!
The library is an integral part of our larger community and as members of that community, we have a great opportunity to show our support.  The library Board has personally pledged $1,500 toward this "Double the Donation" drive. Your donation helps everyone and maximizes this amazing gift.  
Please mail or drop off a check, payable to the Hazel Mackin Community Library. And feel free to 
contact any board member
 if you questions.
The Library and Community Center have become a hub of activity for Roberts and surrounding communities. Beyond providing books and multi-media materials, the library hosts many activities including story time, S.T.E.M. classes, book clubs for all ages, painting and craft classes, and coffee hour (or two) for senior citizens.   
Classes and support programs for adults include resume and interview preparation skills, technical and internet support, Job Center opportunities and so much more.
The library also partners with the St. Croix Central School District and many local businesses and services including our Police and Fire Departments in providing educational and hands-on experiences for children and adults alike.
The Library accepts checks, cash donation and can now also accept donations in the form of stocks, bonds, & IRAs through Thrivent Financial, for more details contact a library board member.
Checks can be made out to:
Hazel Mackin Community Library
Mail to: P.O. Box 88, Roberts, WI 54023
Thank You!
Coffee Bar
Enjoy a coffee or tea while you relax with the newspaper or a good book. $1.00 donation helps support your library.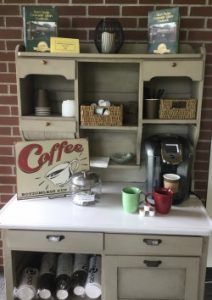 Cookbook for Sale
Give yourself, friends and family, a gift of tasty recipes! Hardcover. Just $20. Proceeds help make your library even better!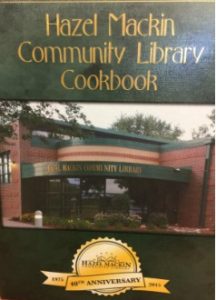 Used Book Nook
Find withdrawn library items for sale in the shelving nook located under the bulletin board. Browse an assortment of hard and softcover books, music CDs, DVDs, and more. Items are priced $1.00 or less unless otherwise marked. Magazines are FREE!
Spring Bake Sale
Find a larger selection of donated and withdrawn items for sale once every spring in the Community Room. Watch our website for date and time.
Gift Policy
Gifts of money can be directed in the way the donor chooses. This may include: supporting programming, buying new materials, etc. If no area of support is specified, the gift will be allocated to the parking lot fund.
Gifts of materials (books, DVDs, etc.) must meet the same standards of selection as other library materials. Please ask a staff member for assistance if considering a gift of this type. If accepted, the library retains unconditional ownership of any material gift and makes the final decision on its use. This may mean including the donated item in the collection, selling it at a book sale, or discarding it.